How to play Crazy Time
August 29, 2023
284 Views

Crazy Time is an immensely popular live game show made by Evolution. It's a sequel to another popular Evolution title called Dream Catcher. Both these games have made huge success online, especially among Indians. Crazy Time was released by Evolution in 2020 and can now be found at the majority of all Indian Casino Sites. The game is totally different from other live games such as Online Teen Patti and Sic Bo Online. Crazy Time offers more of a show than anything else. The game is presented by a host and includes interactive elements. You get to experience no less than four bonus games and in two of these bonus game there are different multipliers.
In this Crazy Time Casino Guide we will take you through the gameplay. You will learn how to play Crazy Time and find out where to find this popular game. Once you've tried Crazy Time, we are certain that you will get hooked by the game. If you're already familiar with the game, you can play it at BONS Casino India right away.
Best Crazy Time Casinos in India
This is how to play Crazy Time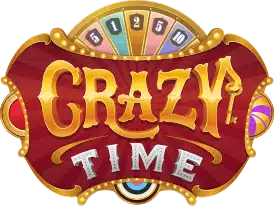 Crazy Time is set in a gambling studio filled with colors and flashing lights. The studio contains a main money wheel and over this wheel you will see a Top Slot. Looking around in the studio, you will also see four bonus games.
It's very easy to play Crazy Time and you can do this together with other players. The first thing you have to do to start playing a round of Crazy Time is to place bets on numbers. You can also bet on bonus games. The bets that you can place are displayed in front of you. You will see these bets as tickets. Click on the tickets and then click on your chips below. That's how to set the wager of each bet.
When the main game starts, you will see the top slot spin together with the main money wheel. The top slot will generate a random multiplier for one of the bet spots. This could be a number or one of the four bonus games. If the bet spot and the multiplier matches, a multiplier will be added to the bet spot. In this case, the multiplier will either be added to the win or to the bonus game.
Your main goal in Crazy Time is to predict where the wheel will stop. For most players, the aim is to get into the bonus games where the really big wins are.
Crazy Time Bonus Games
There are four different bonus games in the Crazy Time Casino Game. This makes Crazy Time one of the best and most exciting live game shows out there. Below we will explain how the different bonus games work.
Cash Hunt Bonus Game
The Cash Hunt Bonus Game is a shooting gallery feature. This feature contains 108 random multipliers. Before you take your aim, the multipliers are covered by symbols and being shuffled. When that's been done, you just have to aim for a symbol and the canon will shoot. When the shot hits the target and the time is up, the won multiplier will be revealed.
Coin Flip Bonus Game
In this bonus game a flip of a coin will determine which multiplier win you will get. Before the coin is flipped, the red and the blue side of the coin will each get a multiplier that's being generated. You will then know what multiplier that's being offered on each side of the coin. Then the coin is automatically flipped and you will se what multiplier won you'll get.
Pachinko Bonus Game
In Pachinko Bonus Game there is a large wall with pegs on it. A puck is dropped on the wall and the puck can land on different multipliers. The puck can also land on a Double Value. If it does this, the wins are doubled and you get to play once again. In the Pachinko Bonus Game, players can get their winnings multiplied by up to 10,000x!
Crazy Time Bonus Game
In Crazy Time Bonus Game you get to explore a virtual money wheel containing 64 segments. This wheel will be revealed by the game presenter that pushes a big red button. Before the game, you get to chose between three flappers; blue, green and yellow. Then the wheel starts to spin. When the wheel stops, the flapper will point on a multiplier that you will win. The flapper can also point on a double or triple value. If that happens, the wheel will spin again and you will get the multiplier doubled or tripled.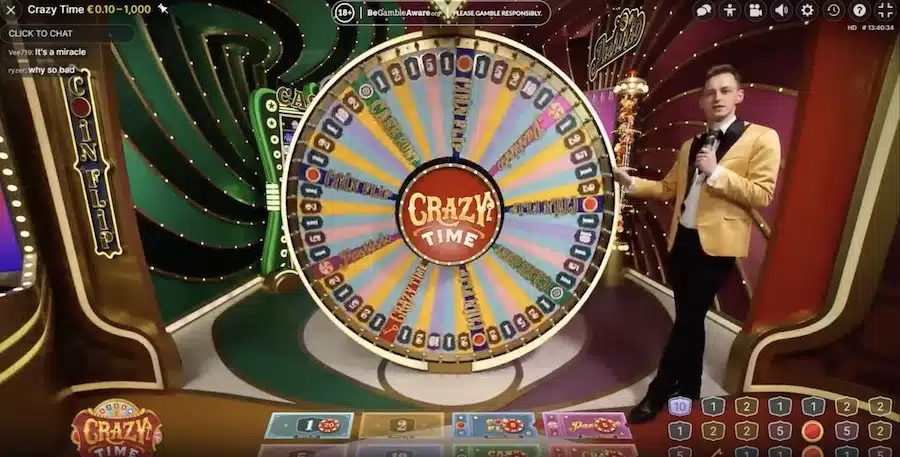 Where to play Crazy Time
A lot of Online Casinos in India offer the Crazy Time Game Show by Evolution. The same applies for Casino Apps such as iPhone Casinos and Android Casinos. Crazy Time is legal to play online as long as you play the game at a regulated and licensed casino. You can find a list of such live casinos above. You can play Crazy Time at India Casino Sites that's offering a live casino. Crazy Time is a live game show and can only be played for real money. Unfortunately there is no possibility to play Crazy Time for free.
If you want to play this game, make sure you look for casinos that's offering games from Evolution like 22Bet Casino. Evolution is one of the greatest providers when it comes to live casino games. This provider has also created other popular live game shows such as Dream Catcher.